Examples of Butterfly
Butterfly
Post by
natttt
Posted on 2011-01-13 10:48:30
A
butterfly
is a mainly day-flying insect of the order Lepidoptera, the butterflies and moths. Like other holometabolous insects, the
butterfly
"s life cycle consists of four parts, egg, larva, pupa and adult. Most species are diurnal. Butterflies have large, often brightly coloured wings, and conspicuous, fluttering flight. Butterflies comprise the true butterflies (superfamily Papilionoidea), the skippers (superfamily Hesperioidea) and the moth-butterflies (superfamily Hedyloidea). All the many other families within the Lepidoptera are referred to as moths.
Some examples of species of butterflies are:
Papilo machaon (Common Yellow Swallowtail)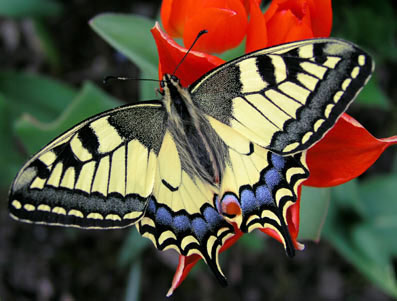 Hamearis Lucina
Danaus plexippus
Is this example useful?
To share this example, copy and paste this code into your website, blog or forum:
Comments
Related examples
Protists are a diverse group of eukaryotic microorganisms. They have a nucleus, large ribosomes, mitochondria, endoplasmic reticulum, and go...
Meiosis
Posted on 2011-01-10 23:06:48
Division of cells in which four "daughter" cells are produced from one "parent" cell, each with half the genes of the parent. Meiosis is a s...